THE NORTH'S AWARD-WINNING EVENTS & AV COMPANY
Soulasia Roadshow create innovative, bespoke entertainment to suit all budgets and events. We deliver our services to many types of functions including weddings, outdoor events, launches and corporate functions. Our state-of-the-art sound, lighting and audio/visual systems are operated by our in-house DJ's but are also available for individual hire.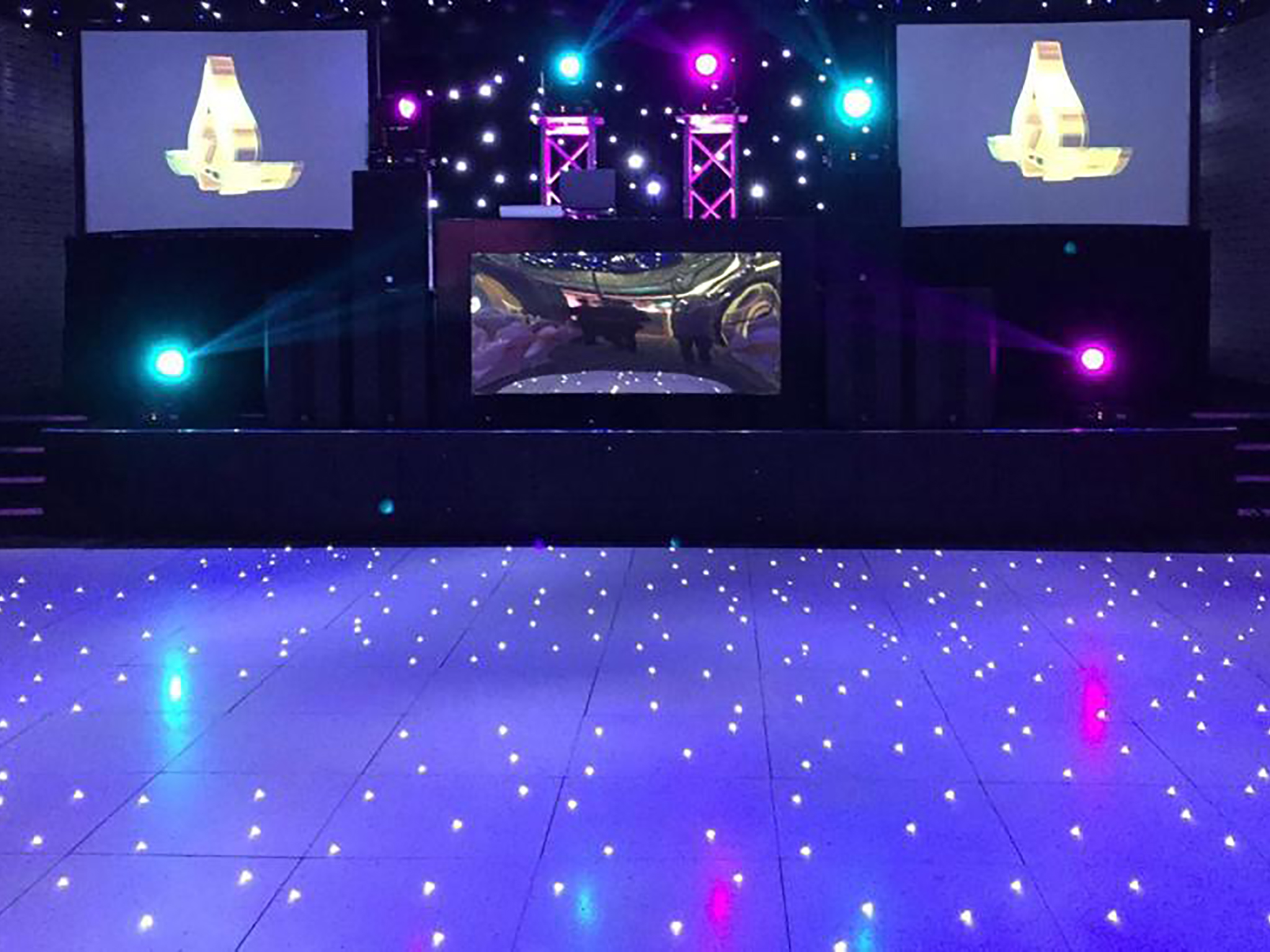 Add a spectacular centrepiece to your event with one of our LED lit dance floors available in either black or white. Adding a dance floor to your event is easy, we take care of the measurements, installation, cleaning, and collection of the floor making it hassle free for our clients.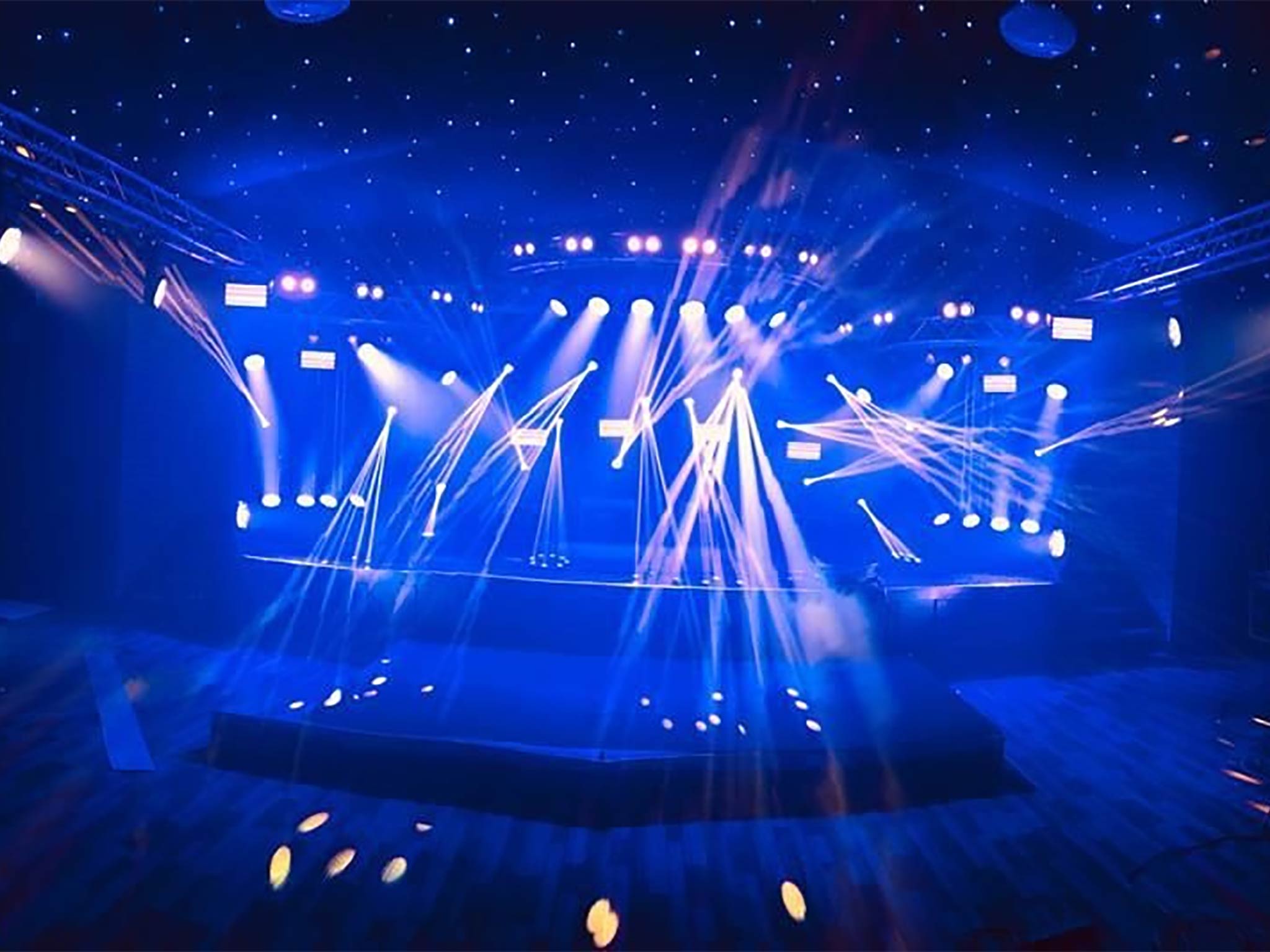 Moving heads or intelligent lighting are PC controlled allowing our lighting engineer to control every movement of the units and set them to the shape and size of the venue. When the party begins, the lighting comes to life creating amazing beams and gobo patterns all over the venue whilst primarily focusing on the dance floor.
Our crystal-clear sound system gives everyone an impeccable quality of sound regardless of their position in the audience. We have numerous digital sound systems to suit all types of venues both indoor and outdoor.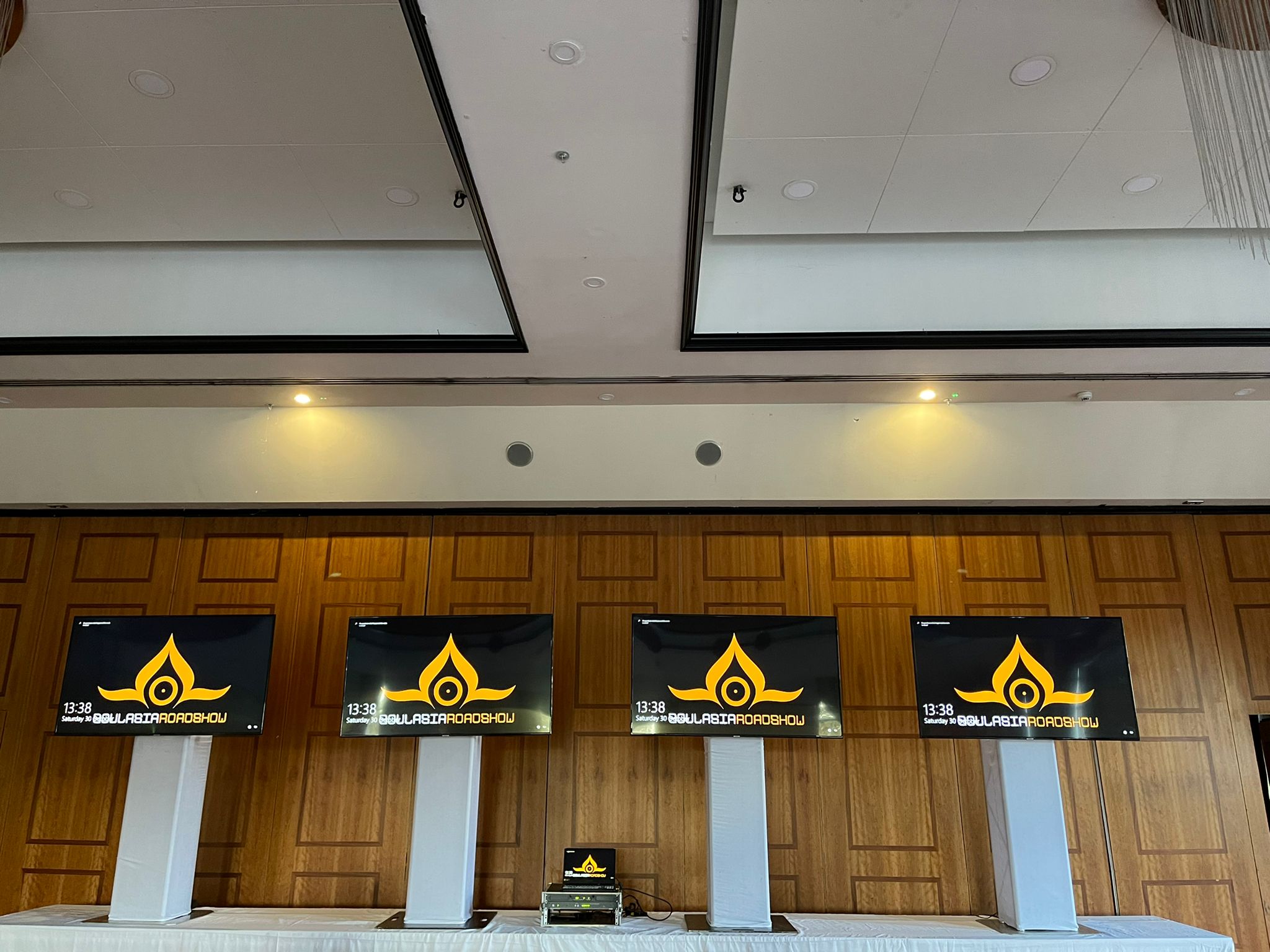 Our 4K Plasma screens are available to project video slide shows or showcase live video feeds to the audience. Plasmas are particularly effective in smaller venues where space can be limited.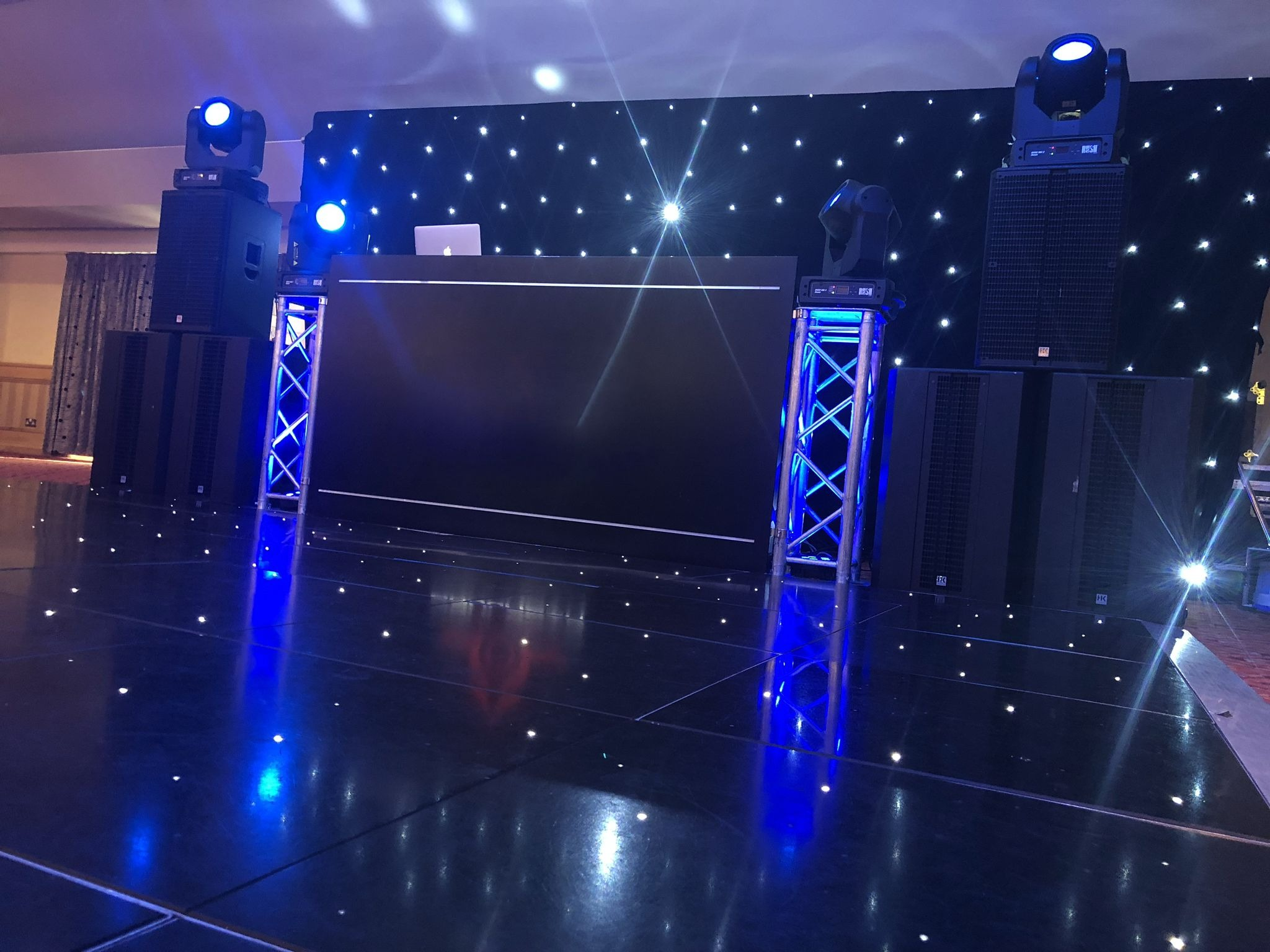 Fibre Optic Star Cloth Backdrop
This adds a glamorous backdrop to any stage set creating a night sky effect. Sure to set the scene and wow your guests!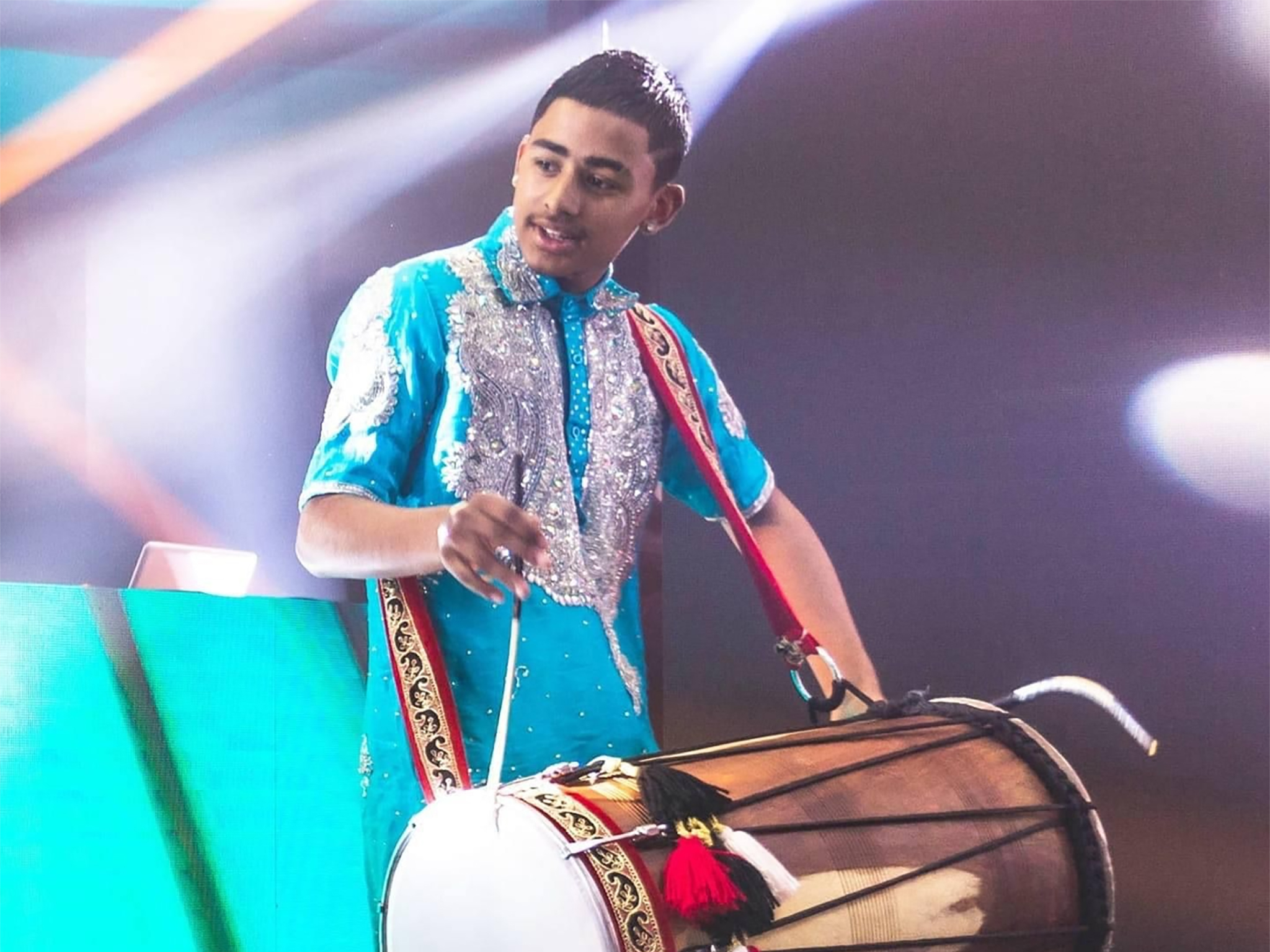 Our in house Dhol players work very closely with our DJs to deliver an exceptional and memorable experience for you and your guests. Performing exclusive, live coordinated performances, they are guaranteed to liven up your event.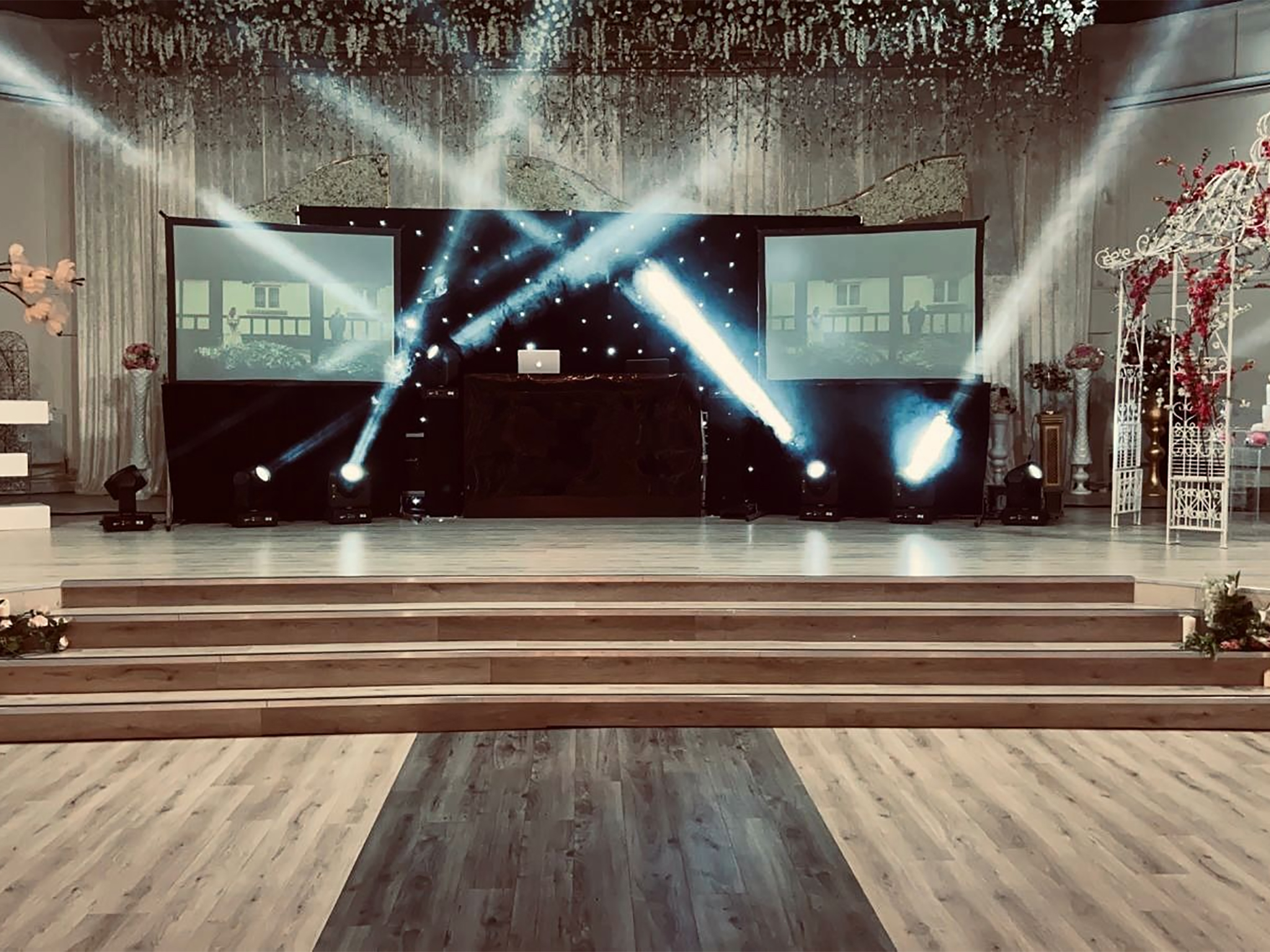 Ideal to display live feeds, graphics, and video slide shows in larger sized venues. Our projector screens add a tremendous sense of occasion to your event.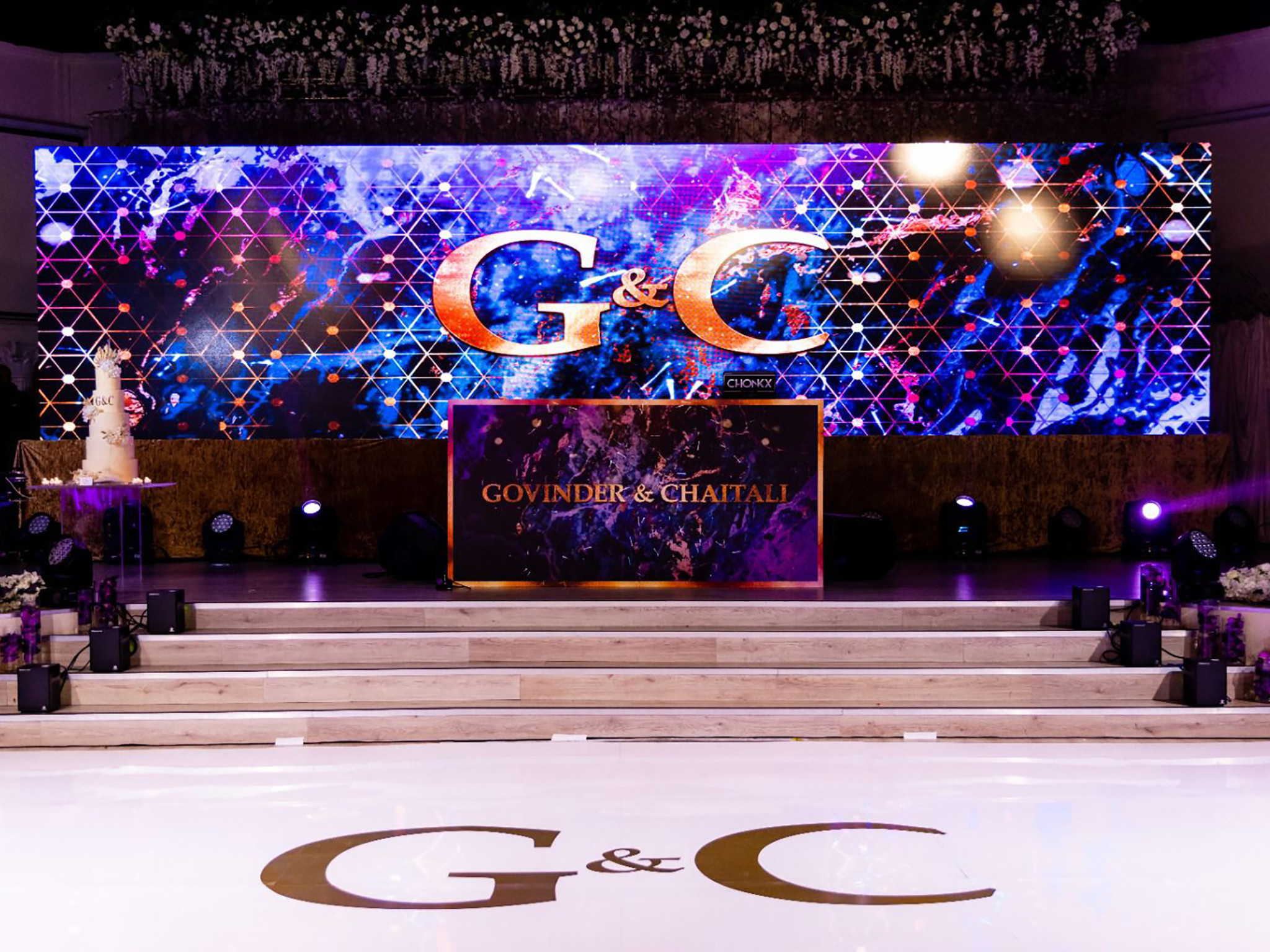 Our LED walls are spectacular! Our customisable screens display incredible static, moving images, videos, and graphics through our high end UHD wall processor. These walls create crystal clear and high-definition images guaranteed to impress. LED walls range in size and shape, we can offer the ultimate screen of 10m x 2.5m but also customise to a smaller size to fit your venue. Additionally, we can create an exclusive stage design to match your décor.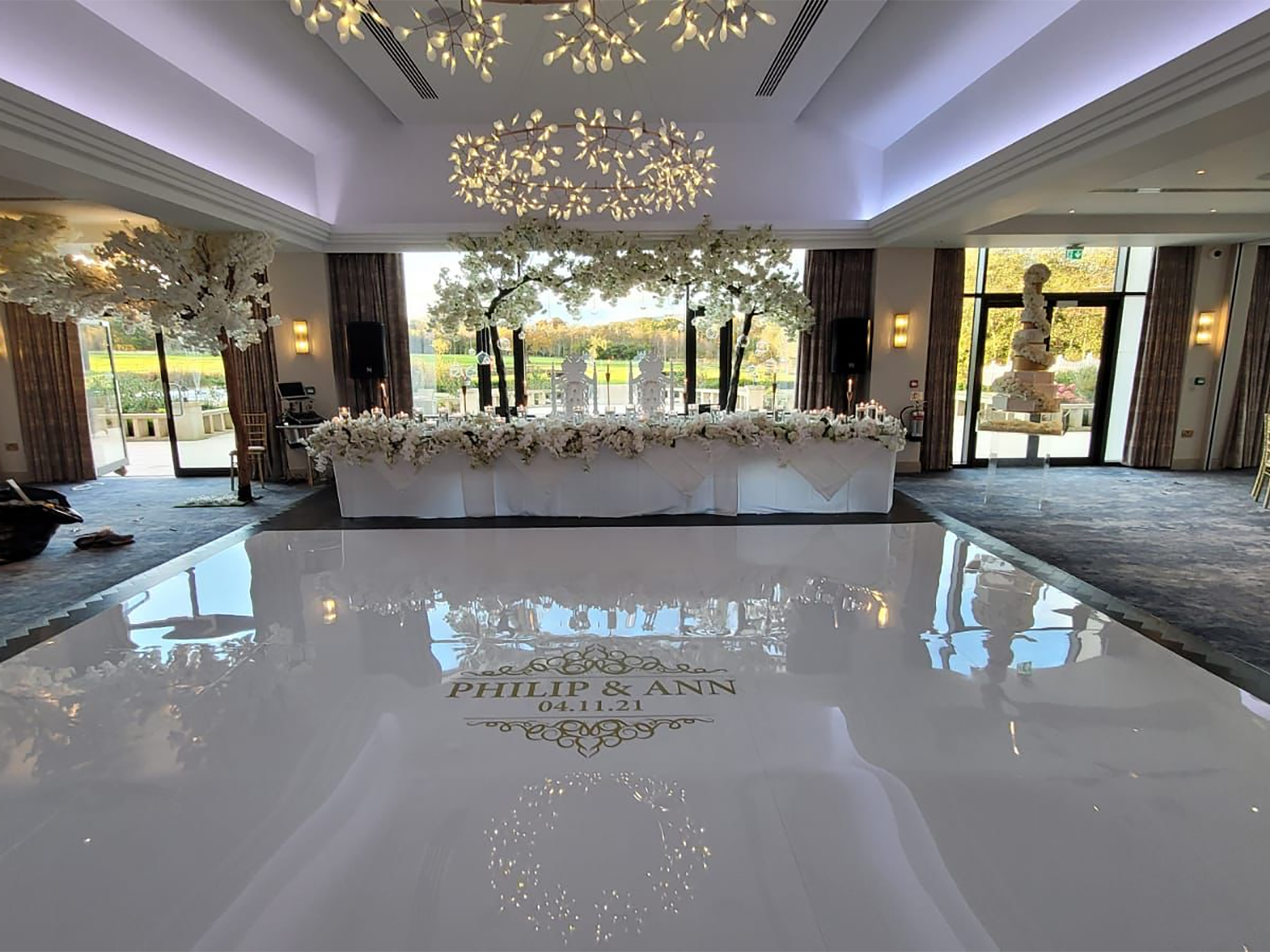 Our seamless dancefloor is a stunning statement piece with its high gloss finish and perfect polish shiny look.
Every dance floor is bespoke and custom made to our clients requirements. The sheets come in white/black gloss or gold/silver.
We can make any size, shape to suit your décor and to finish off the master piece, we can add any colour and design of monogram.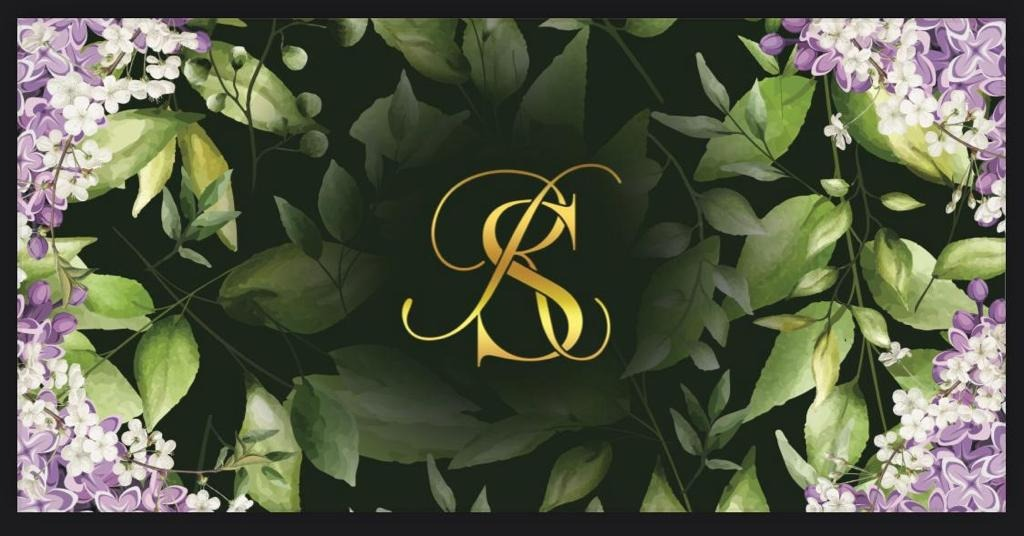 BESPOKE PRINTED DANCE FLOOR
We also provide unique printed dance floors. We can print any design to suit your beautiful hall décor. Our in house designers work with you to get the design just how you want it. If you think that's a wow factor, then why not add a custom made printed dj booth. We can match the printed dance floor with the dj booth. This will create an outstanding master piece.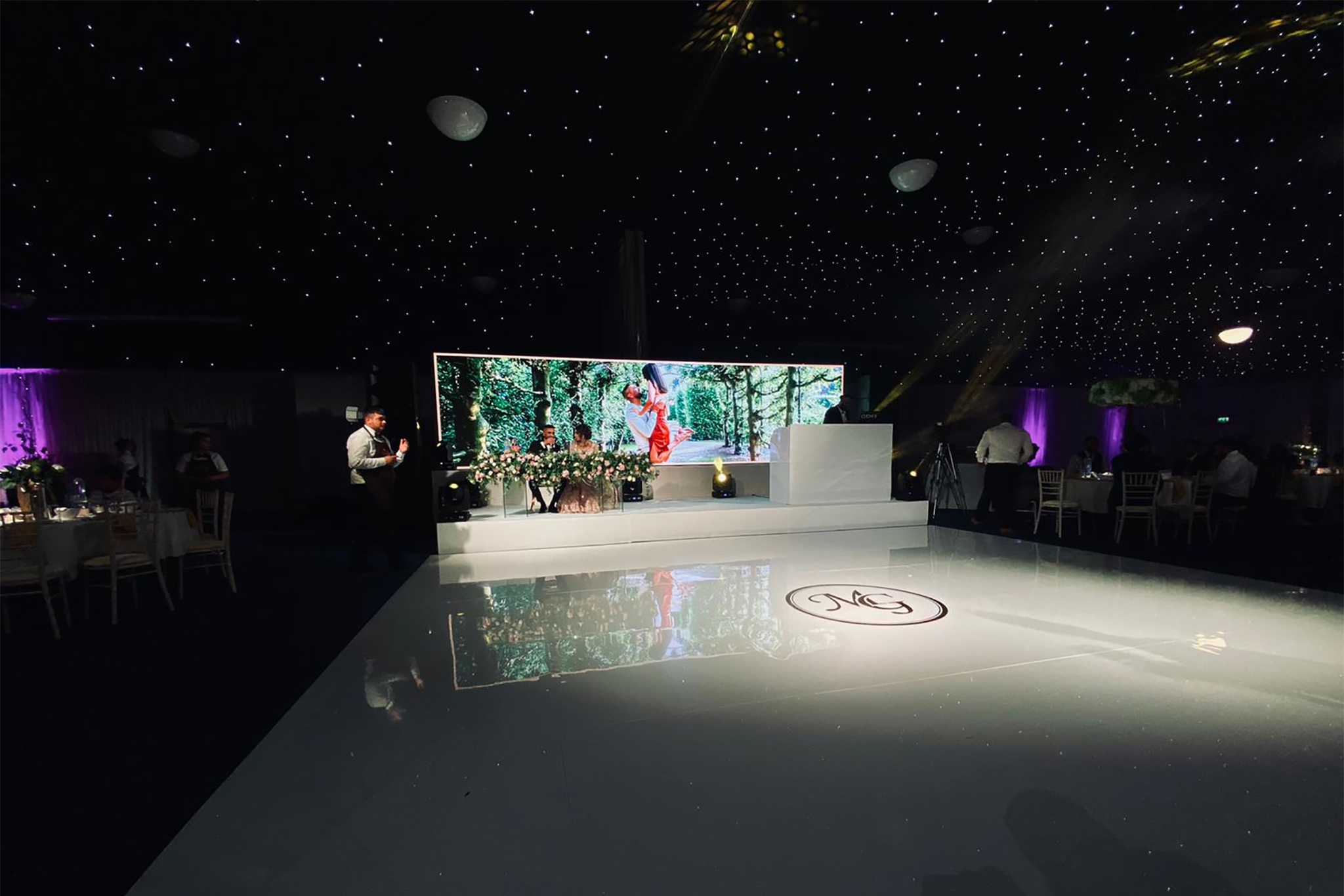 A great added effect for grand entrances and live performances. Our follow spot creates a very powerful beam and is the most effective way to focus on one specific person or item in the room.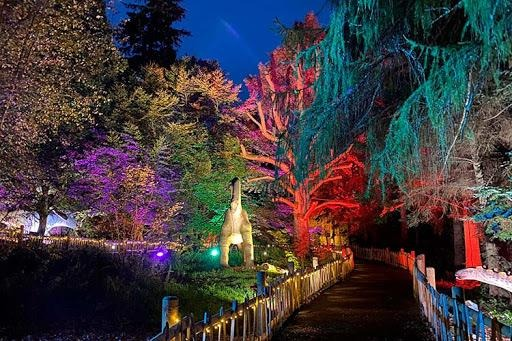 Our outdoor lighting is superb for up lighting garden trees, outer areas of a marquee, business buildings, houses etc. The lights are water proof and create a magical effect.

This really is the ultimate wow factor for your first dance! We will create a perfect white cloud of low-lying fog whilst working alongside your photographer to capture the most amazing pictures of one of the most special moments of your day.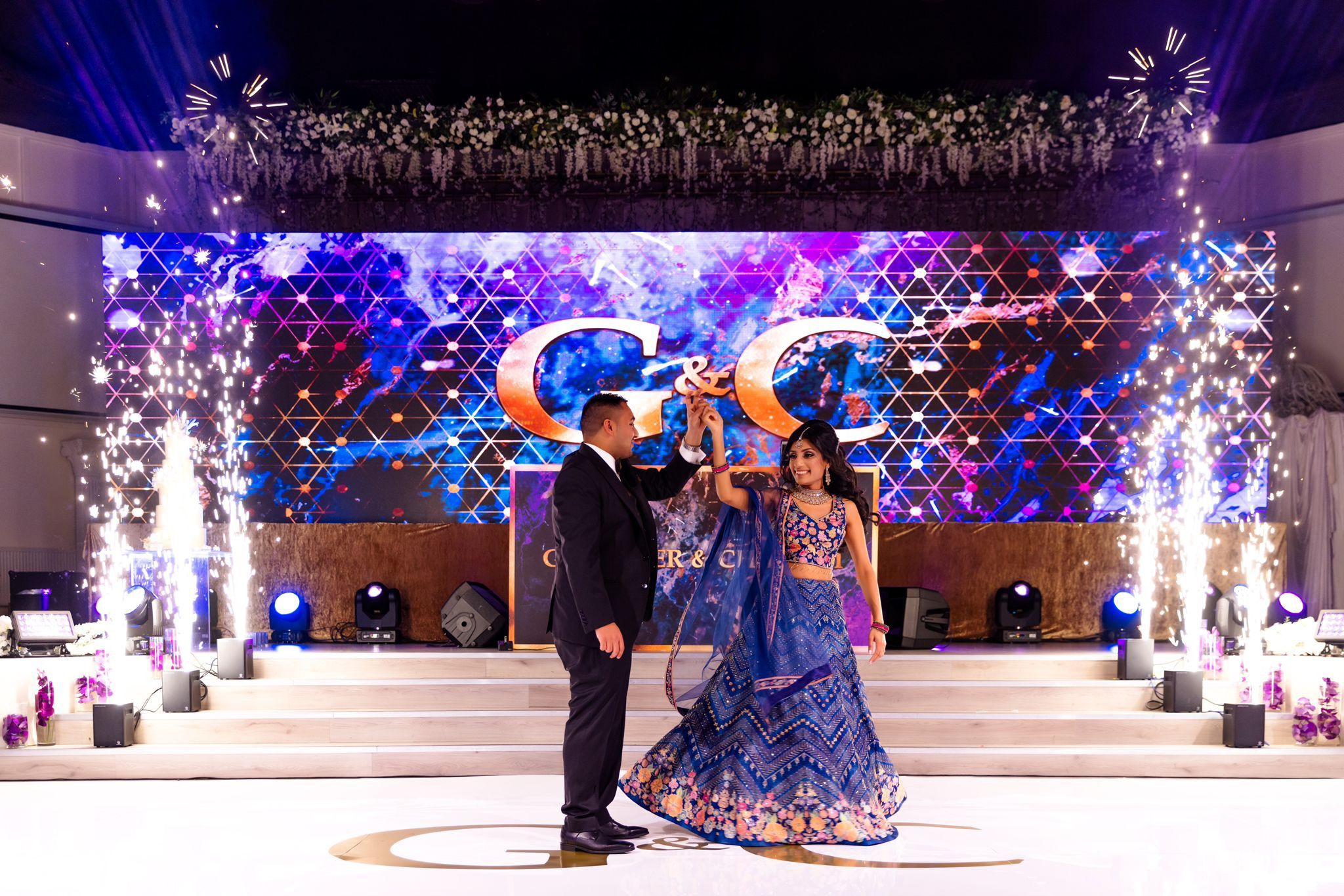 Our Indoor Cold Fireworks are perfect for adding sparkle to your big day or event and can be used for the bride and groom's first dance, entrance or cake cutting even Awards ceremony or just to give the wow factor to your event. They can be hired with any of our packages or on their own with one of our experienced operators.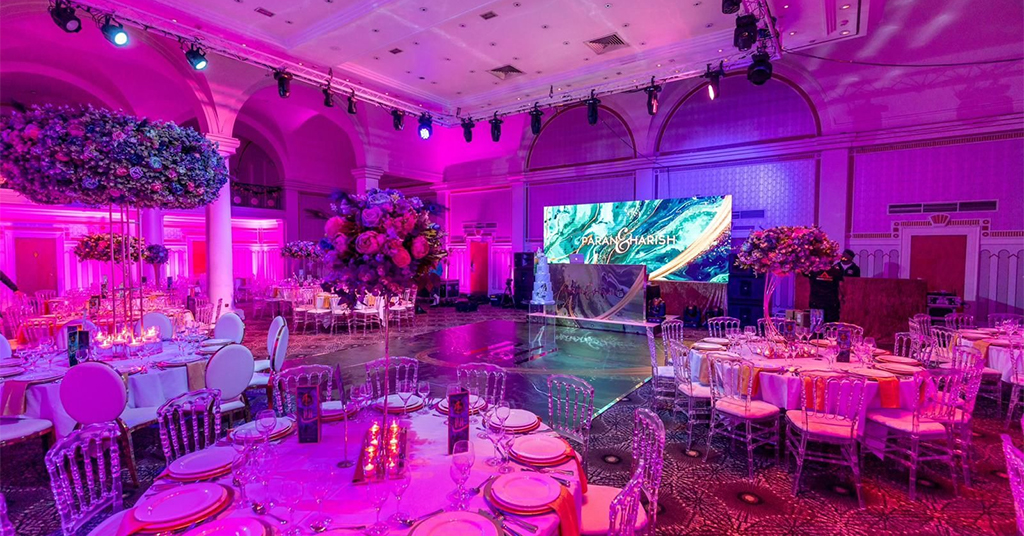 Soulasia use lighting to create infinite variations of mood in your venue we can create a romantic soft look to a dazzling glamorous look. We can use a myriad of colors and patterns with different speeds!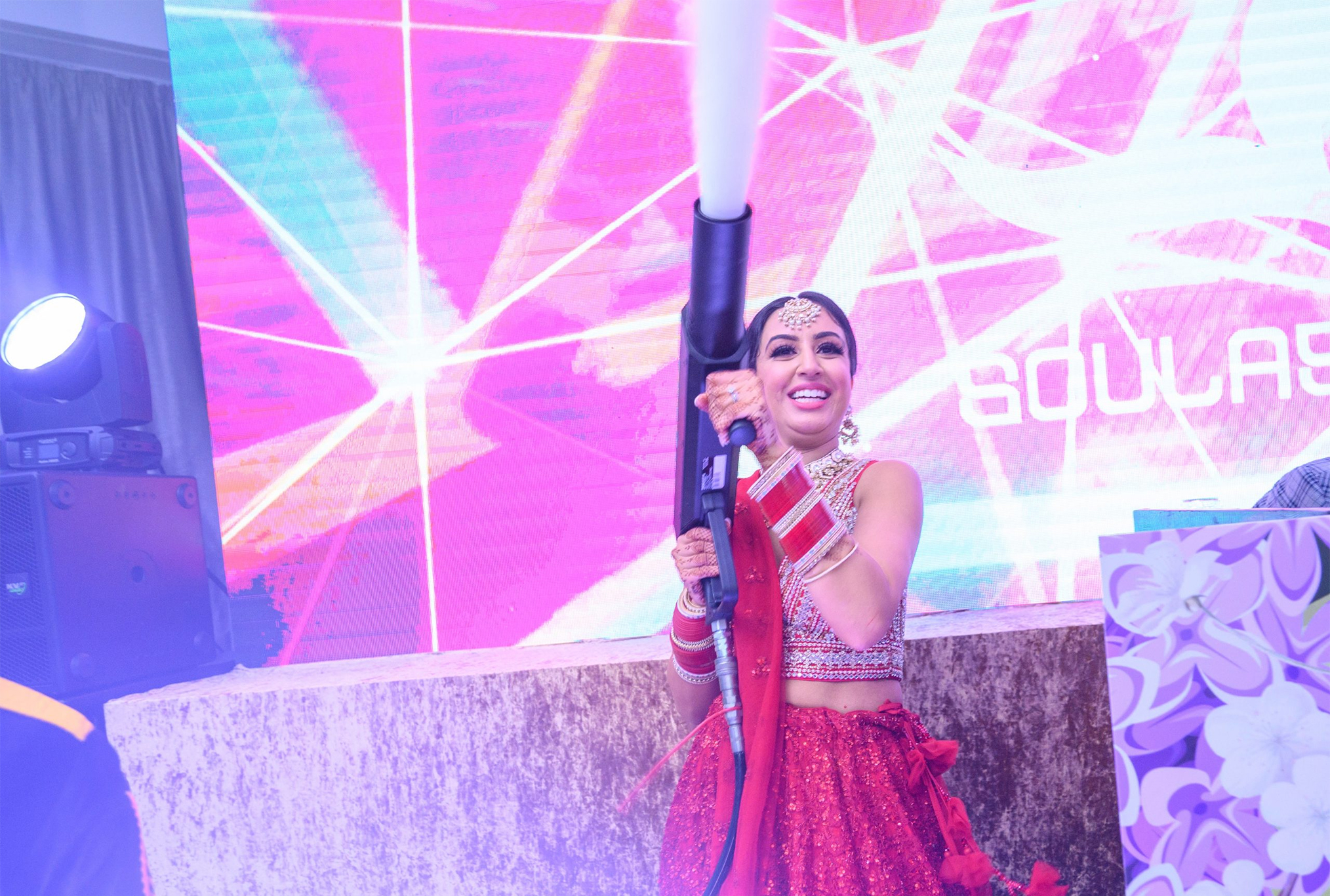 Our CO2 Experience consists of two handheld CO2 guns. It's great for bride and groom on stage with the dj or events or festivals. It's the talk of the party.